Easiest Way to Cook Perfect Gyoza Soup
Gyoza Soup.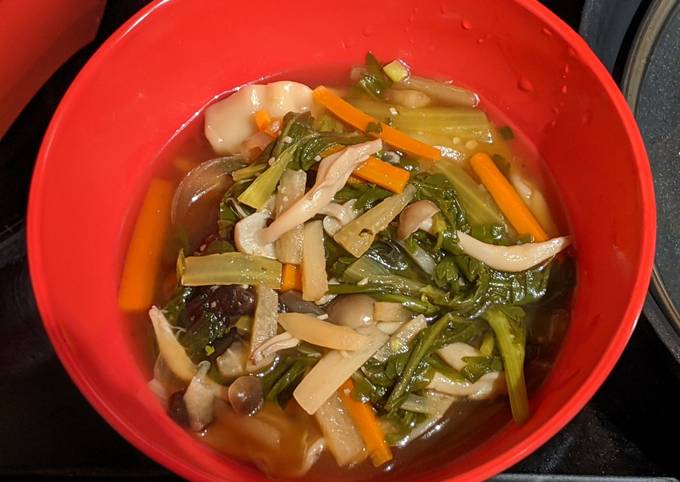 You can cook Gyoza Soup using 18 ingredients and 7 steps. Here is how you cook it.
Ingredients of Gyoza Soup
Prepare 4 of in piece of kombu.
Prepare 6 of shitaki mushrooms, fresh or dried.
It's 6 cups of water.
You need 1/2 of a sweet onion sliced.
You need 1 tbsp of chopped garlic.
It's 1 of carrot, cut in sticks.
You need 2-3 inch of piece of japanese daikon, cut in sticks.
You need 2 tbsp of tamari or shoyu.
Prepare 2 tbsp of mirin.
It's 2 tbsp of sake.
It's 1/4 tsp of salt.
It's of Ground pepper, to taste.
You need 6-8 of Shizo leaves, chopped.
It's 1 of brown beech mushroom, trimmed and broken in bite sized pieces.
It's 1/2 of of 1 baby bok choy, washed and chopped.
Prepare 1 of large handful of garland, washed and chopped.
Prepare 6-8 of frozen vegetable gyoza.
It's 1 tsp of toasted sesame oil.
Gyoza Soup instructions
Bring water to a low boil in a dutch oven or a large saucepan. Add kombu and shitaki mushrooms. Simmer for 5-10 minutes..
Add onions, carrot, daikon and garlic. Bring to a simmer..
Add tamari, mirin, sake, salt pepper and sesame oil..
Simmer for 15-20 mins..
Add garland, bok choy, beech mushroom and Shizo leaves. Simmer for 5 minutes..
Add frozen gyoza. Cover and simmer 5 minutes. Turn heat off and let rest 5 minutes. Add scallions if desired. Add hondashi if needed..
Serve in large noodle bowls..